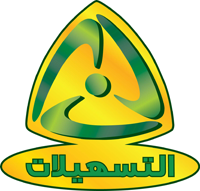 Tas'helat Marketing Company is the first Saudi Company that owns and operates a chain of retail fuel outlets and car service centers across the Kingdom.

Tas'helat was established in the Eastern Province in 1957 with its main objective being to provide fuel and basic car services to the major petroleum companies in a growing and very promising district in the Kingdom.

Over the past 50 years, Tas'helat has built its reputation and experience through highly qualified and trained personnel who helped the company achieve its objectives and establish the company sales programs; which include cash sales, credit sales, bulk sales, and Sahl prepaid services.

By 1975, the management had set a strategic plan to increase its number of retail fuel outlets within the Eastern Province and all over the Kingdom. Now, Tas'helat operates a chain of over 250 fuel outlets and car service centers in 30 cities and on high ways.

Tas'helat was also the pioneer in designing and implementing its own smart card automated fuel system, Sahl, which allows corporate & cash customers to recharge their cards with fuel and other services for later use. Through the Sahl system; customers can fuel at any time without the need for on-hand cash, keep track of their fuel expenses, and add other services such as oil change or a car wash to the card services.

Tas'helat designed its own configuration in order to stand out from the rest and establish itself; this relies on factors such as the I.D. Sign, outlet appearance, accessibility, lighting, products availability, and the provision of high quality services. These elements have helped us to create the highest service standards for motorists all over the Kingdom.

Tas'helat maintains all the safety regulations required not just at the national level, but on an international level as well. We maintain all the municipality and civil defense requirements to the utmost standards.

Due to our commitment in maintaining service standards, Tas'helat has won many governmental tenders through its years and now serves a number of important governmental clients such as, security forces in the Eastern Province, along with Madinah, Tabouk, Al-Jouf, and Asir. In the private sector, Tas'helat operates 4 sites for Saudi Aramco in Dhahran, Ras Tanura, Abqiq, Udailyah and 2 sites for Petro Rabigh in Rabigh City.